【CBIS2020】Kunlun Chemical Guo Yingjun: Development and Application of New Electrolyte Materials
2020-10-30 17:27
From October 16th to 17th, 2020, the "5th Power Battery Application International Summit (CBIS2020) and the 1st China New Energy and New Materials (Ningde) Summit" was grandly opened. At the theme forum 2, Xianghe Kunlun Chemical Products Co., Ltd., Guo Yingjun, chairman of Huzhou Kunlun Yinke Battery Materials Co., Ltd., delivered a wonderful speech entitled "Development and Application of New Electrolyte Materials".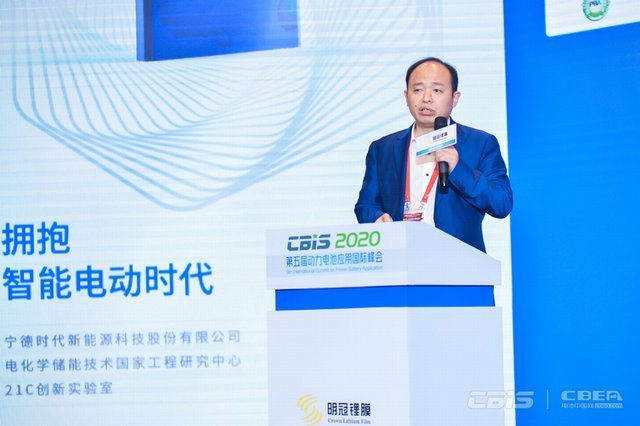 The following is the interview transcript:
Good afternoon everyone! Take the opportunity of today's report to talk about some of the work Kunlun has done in lithium battery electrolyte.
These two pictures are office buildings, and the design is very beautiful in all aspects. What I'm talking about includes the following: one is a brief introduction of the company, the second is a brief introduction of our Korean partners, the third is the specific situation of some research and development, and the fourth is our patent on key additives In terms of the work done, the fifth is the display of featured products, as well as future product planning.
The photo above in the middle is the interior of the workshop of our Huzhou company, and the interior of the experiment on the right side above is our gate. The whole factory is good in design, planning, layout and appearance, with an annual output of 20,000 tons of electrolyte. Then the second phase is planned to be about 40,000 to 60,000 tons, and now it is in full swing into the second phase of implementation.
We have relatively complete domestic electrolyte research and development hardware conditions, including electrical performance testing, including all complete sets of safety testing devices, as well as the synthesis of new additives.
This is a brief introduction of the Korean partner enchem. They are the top electrolyte company in Korea. Now they mainly supply electrolyte to LG and SK. The company officially started business in 2014, and the company's owner was originally the head of Samsung's electrolyte technology. Our two companies have joined forces to complement each other's advantages to jointly develop the future promising lithium battery electrolyte market, and to develop together in the Chinese market and foreign markets. Here are some details. In addition to having a factory in South Korea and a joint venture with us in China, we have also built factories in Europe and Poland, and are preparing to build a factory in the United States.
This is the support system for research and development. The research and development of Xianghe Kunlun and Huzhou Kunlun are integrated, and customers are the center of our services. We carry out customized technology development, diversified technology conversion, and joint development of electrolytes for customers. We will also cooperate with suppliers to carry out some development and meet customer requirements. Current electrolyte research is generally in an empirical mode. We cooperated with the doctoral supervisors of the Changchun Institute of Applied Chemistry, Chinese Academy of Sciences, and have done a lot of work in the theoretical innovation of electrolytes, mainly in the theoretical and practical innovations of electrolyte structure, and the design of the entire molecular technology of electrolytes. The proposed electrolyte solvation theory.
Because in the global lithium battery and electrolyte market, Korean companies are a force to be reckoned with. Like LG and SK, which are relatively popular now, they should be powerful competitors facing our domestic battery factories. Of course, the electrolyte is a key. Our partner enchem has technical advantages, the main personnel have more than 20 years of research and development experience, and some independent additive technology and intellectual property rights. Therefore, the strong alliance has a relatively good effect.
There are three kinds of products that we mass-produce. There are three kinds of products. The first is a high-safety and non-combustible electrolyte. The impact of the core is a pain point. The problem now lies in the cost. We plan to reduce the cost by half to meet the national car's 5-minute escape time requirement. After we reduce the cost, we plan to vigorously promote it. The second type is the 300Wh/Kg 811-to-silicon-carbon electrolyte, which has been mass-produced and used on large drones, with breakthroughs every month. The third category is the ultra-high temperature 85 degree electrolyte product, which can be cycled at high temperature for more than 1,000 minutes. In addition, there are digital batteries, and now there are more and more energy density requirements, and corresponding electrolytes are developed, with a voltage of 4.45V.
In addition, in terms of formula design of electrolyte to solve a series of internal cycle resistance problems faced by customers, we have attached great importance to the layout of intellectual property issues in the past two years. Because the pain point of China's lithium battery industry is in terms of intellectual property rights, and there are some obstacles and barriers in the United States, Japan, and South Korea, we need to find ways to break through. We have applied for dozens of related patents in the past two years, including the formulation of electrolyte, the material structure of new additives, including the application of additives. This is the relevant patent that our electrolyte has applied for in recent years, there are dozens of them. The additives on the right are to solve the weaknesses of some new types of traditional additives. The first one on the top combines the characteristics of VC and DTD to reduce battery impedance and prolong battery life. There is also a second type of special lithium salt additives, mainly used in high temperature nickel material systems; and additives for high voltage protection. This is also a new substance in the world, the first of its kind, and we have applied for relevant patents. This is a small-scale and pilot-scale product made of some additives that we have developed ourselves. These additives have different uses. Now they are more fashionable and the dosage is gradually increasing.
There are already many additive suppliers. Why do we want to develop these new additives? We mainly focus on improving the core competitiveness of enterprises. Electrolyte is now not only a mixture of various materials, but also has more profound and in-depth intellectual property rights of patented technology, so that it can go further and not be restricted by others. Therefore, we have made a lot of efforts in this area in the past two years. We have more than 40 R&D personnel who have done a lot of pioneering and innovative work in electrolyte formulation and new material synthesis and application.
As for cost control, I won't talk much about it. The main reason is that we have joined forces with South Korea. The Huzhou factory uses relatively advanced DCS and MES systems, which are highly efficient, so the cost of this piece can be effectively controlled.
This is a special product. I just mentioned ultra-low temperature electrolyte and high nickel electrolyte. Above is the cycle curve diagram, and below is the electrolyte of 811 silicon carbon. It should be said that this performance is still leading in the country, and it is still good. On the right is the data comparison. Compared with our competitors, our performance is far better than the performance of each other.
This is a high-safety electrolyte developed. Let's talk a little bit about it. After this electrolyte is added, all the tests such as short circuit, acupuncture, overshoot, and heating, including seawater immersion, have been solved. This battery is not a small battery, it is 50~100Ah. Through our technology, we hope to reduce the cost to about 40 yuan. Once the cost of the electrolyte is reduced, we can promote it in large quantities, which can alleviate the anxiety about the safety of lithium batteries to a certain extent.
This is an ultra-high-rate electrolyte, which can achieve high-rate discharge from 120C to 150C. The above curve is compared with competitors, and it still has obvious advantages. This rate is above 100C, which is also quite high.
This is the idea of ​​future development. First, special electrolytes and special functions. The second solid electrolyte. The third is the special substances that support these functional electrolytes. Like ultra-high temperature, our goal is to not fire at 180 °C, cycle at 95 °C, and discharge at ultra-low temperature -70 °C. High power meets 200C high power discharge. This is not a traditional power battery, it is used in special occasions. Solid electrolytes, without going into details, this is also a hot spot. There are also special substances, which are independently synthesized and protected by intellectual property rights.
That's all for my report, thank you all!
COPYRIGHT Xianghe Kunlun New Energy Materials Co., LTD Powered by 300.cn

冀公网安备 13102402000399号 TagList