Sun Chunsheng: Kunlun Materials Phase II plans to build an additional 40,000 tons of electrolyte production capacity
2020-08-05 10:50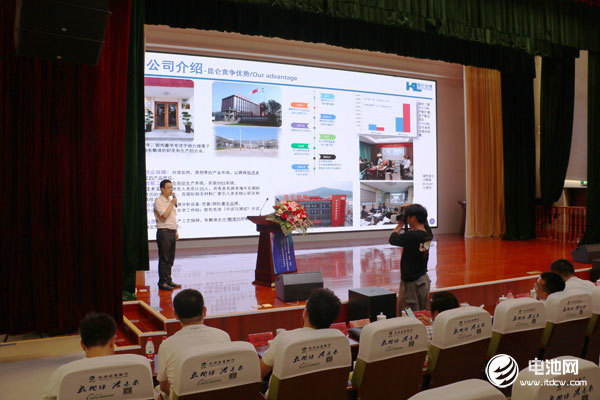 Entrepreneurs of the Battery 100 "Ask" Changxing and Post-epidemic Era 2020 China Battery New Energy Industry Chain Ecological Healthy Development Entrepreneur Forum Site
Battery 100 People's Meeting-Battery Network August 5 (Xiao He, Zhejiang Changxing Report) August 4-7, hosted by Zhongguancun New Battery Technology Innovation Alliance, Battery 100 People's Meeting, and Changxing County People's Government, Changxing County Bureau of Commerce, Changxing Hosted by the County New Energy Equipment High-tech Industrial Park (Huaxi Street), and supported by the China-Russia New Energy Materials Technology Research Institute, China Fortune Land Development Co., Ltd., and Zhejiang New Energy Industry Innovation Service Complex "Changxing and Post-epidemic Era 2020 China Battery New Energy Industry Chain Ecological Healthy Development Entrepreneur Forum was held in Changxing County, Huzhou City, Zhejiang Province.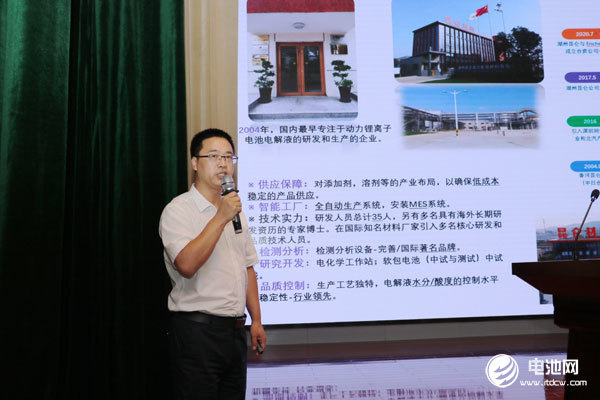 Sun Chunsheng, Head of Chemical R&D, Xianghe Kunlun Chemical Products Co., Ltd.
On the 5th, Sun Chunsheng, head of chemical research and development of Xianghe Kunlun Chemical Products Co., Ltd., gave a keynote speech entitled "Research Progress of High-end Electrolyte" at the forum, sharing the production capacity of Xianghe Kunlun and the progress of research and development of high-end electrolytes. Selected some of its highlights for readers:
According to the data, Xianghe Kunlun was established in 2004. It is an old-fashioned power electrolyte manufacturer in China and has rich experience in electrolyte research and development, production and quality control. The company's Xianghe factory has an existing production capacity of 8,000 tons per year; Kunlun Materials, a subsidiary company of the company, was founded in 2017 and is located in Changxing, Huzhou, with a planned annual output of 60,000 tons. Build another 40,000 tons of production capacity.
In terms of technology, Xianghe Kunlun has applied for a total of 96 patents, including 43 invention patents. The number of invention patents applied for in the past two years has reached 40, and the layout of patents is being accelerated.
Regarding the research progress of high-end electrolytes, Sun Chunsheng mainly shared the research on high-safety electrolytes and EC-free electrolytes.
Among them, the high-safety electrolyte developed by Xianghe Kunlun is suitable for 300Wh/Kg of high-nickel silicon carbon. It is applied to batteries above 20Ah, and its safety performance such as extrusion, acupuncture, and hot box has passed, which solves the problem of high energy density and high energy density. The issue of taking into account high safety has been mass-produced. Through the research and development of raw materials, the combination of electrolyte components and their protective effects with positive and negative electrodes, Xianghe Kunlun has further improved the high temperature cycle and low temperature capacity. At present, the customer's product is in the pilot stage.
The battery without EC electrolyte developed by Xianghe Kunlun has a small polarization, and after cycling, the ohmic impedance is small, and the OCV voltage is stable at high temperature, and the self-discharge is small.
Regarding future plans, Sun Chunsheng said that in addition to the research and development of high-end electrolytes mentioned above, Xianghe Kunlun will also focus on the development of new lithium salt additives and the research and development of all-solid electrolytes.
In addition, the battery network was informed that on July 17, South Korea's ENCHEM Co., Ltd. and Kunlun Materials held an online shareholding signing ceremony. ENCHEM was established in 2012 and has become a supplier to South Korea's LGC, SKI, Nesscap, Kokam, EIG and other companies. At present, it has deployed electrolyte production bases in Europe, Poland and the United States.
COPYRIGHT Xianghe Kunlun New Energy Materials Co., LTD Powered by 300.cn

冀公网安备 13102402000399号 TagList